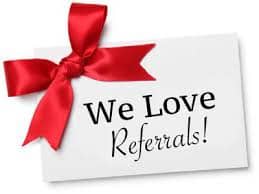 Our Referral Reward Program
We thank you for selecting us to meet your cleaning needs. Tell your friends, family, neighbors, and co-workers about our excellent service, and if a new customer mentions that you recommended us, we will apply a $15 reward to your next cleaning, or you can save your Rewards and use them toward a free cleaning! There is NO LIMIT on Referral Rewards.
Terms and Conditions:
Referral must mention your name prior to their intial cleaning
Ask us about our Commercial Referral Reward Program.  You can earn a Residential Reward of 5% of monthly contract cost!
You can use your Rewards towards a gift certificate.
Referral must become a new customer to J's Maids.
Referral's payment for cleaning must occur prior to applying your Reward credit.
Referral Rewards can only be used for future cleanings.
We are dedicated to our communities and look forward to the opportunity of making life less complicated for you…  and your friends and family.
Please call for inquiries about our program.  You can reach us directly at (818) 248-2001 or via email at cleaning@jsmaids.com.